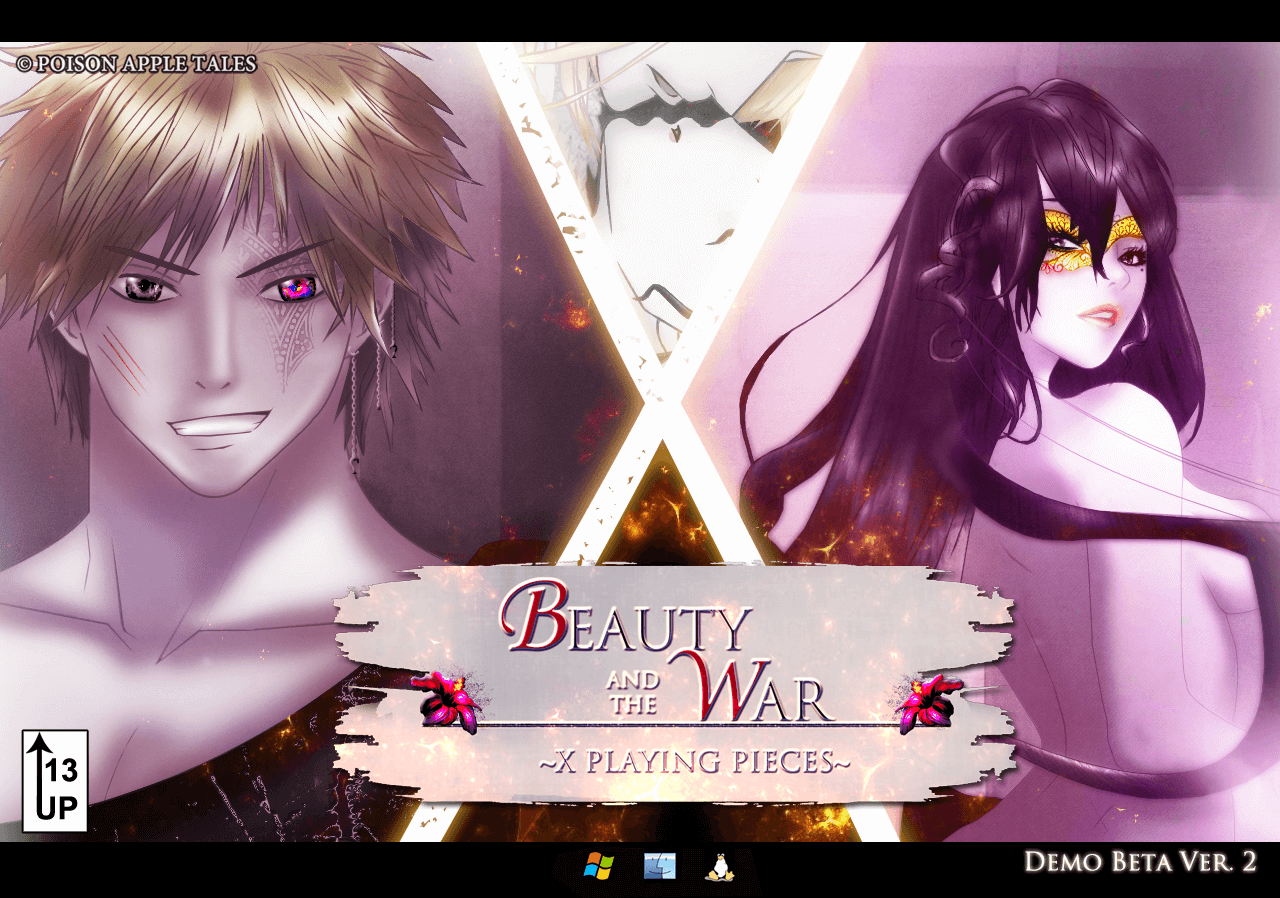 Beauty and the War (X Playing Pieces) Demo Beta Ver. 2
A downloadable game for Windows, macOS, and Linux
PREMISE ❀

Eyes like almond
Skin like dew
Eyes that can plunge you into the deepest avenues of desire
Skin that would shame the purest snow

In the prison designed for the lowest echelons of society, X is the undisputed king of the jungle. As a supernatural wielder of flames, who would dare to approach his throne and hope to survive?
One woman does.
X's days of meaningless killing and tireless monotony come to an end when this woman leaps down from the sky to kiss him.
Who is this enchantingly dark-haired beauty, bold enough to touch him? And just what does she want with him?

❁❁❁❁

"I'll convince you that Virgo Island exists."

To escape from prison, Ambrosia needs him. However, that hinges entirely on securing X's help, which is no easy task when he thinks she's insane.

"You might as well tell me that you come from the land of fairytale and make-believe!" he laughs.
He doesn't believe that she's a Phoenix (which one might find ironic, given his predisposition to fire). He definitely doesn't believe that she hails from Virgo Island - a beautiful yet frightening world populated by creatures of legends, myths and fairytales.

Nevertheless, he hasn't met a woman like her before. She will convince him that Virgo Island exists and she must...before she receives her third strike from the prison's worst warden.

---
This is Demo Beta Ver. 2 for Beauty and the War, the first official arc of the X Playing Pieces series. This game will have both a free version and a paid version. Come and hear the story of the one known as the fairest of them all.

This is a female-fronted dark/epic fantasy, full of treacherous politics, looming clan wars, and - oh, yes - passion. Did you think this was a fairytale? No, no, my dear...

When you are every man's desire, watch what you say. You might catch the wrong attention...or kill someone.

After all, it's been said that men have gone to war because of a woman.

DEMO FEATURES ✿
✿ est. 2+ Hours of Gameplay - Explore Virgo Island and meet the fantastic creatures that make up its residents. Immerse yourself in the X Playing Pieces universe.

❀ 100+ Choices with Consequences - Decide what Ambrosia says and does as she goes about her life as a healer on Virgo Island. Your choices affect your Reputation and determine your Schedule. Your actions will shape your relationships.

✿ Animations - Expect scenes to feel cinematic and thrilling! Experience it to believe it.

❀ Partially Voiced - Let us give you a little taste of the full voice acting that will be in the complete version.

✿ Rich Fantasy Lore - Virgo Island is home to clans made up of supernatural creatures, complete with a few fairytale trappings. Let's not forget that the world with the prison has its own vibrant story...

❀ 5 Romance Options + 2 Secret Ones - For this demo, you'll mostly get to interact with 2 of the bachelors - Chase, a cheerful Trold with a sense of humor, and Arsenik, a sweet, yet alluring Hulder gentleman...

✿ 1 Fun Easter Egg - Good lucking finding it! Feel free to let us know if you do.
Well, what are you waiting for? If you like the little story blurb you've just read, go ahead and download the demo!
VOICE ACTORS ❀

Ambrosia of the Phoenix - Lady A. Sia
Brooks of the Valkyrie - Meaghan H, thegeekynarwhal
Chase of the Trold - Nick Smith
Bo-Peep of the Cucuy - Froboty
Imugi - Tyler Lafontaine
Rosemary of the Phoenix - Rachel Jones
X - Benjamin Orr
CONTACT ✿
Have something to tell us? Want to stay up-to-date on the latest announcements? Then, get in touch!
Lemmasoft. A friendly thread chock full of info.
tumblr. Our main website! Follow us for sneak peeks and more…
Facebook. Don't forget to like us!
Twitter. Use #xplayingpieces to talk about this dark fantasy game.
Pinterest. Want more pics? Look no further.
---
Note: As a demo, this game's content is subject to change! (Hopefully, for the better.) If you rather wait for the complete version, then just keep an eye on our social media. We'll let you know when the full version's ready to go!

Do you want to help? Be sure to let us know what you thought of the game by commenting below! Or by reaching out to us on our social media. We always love hearing what you think, and we're actively doing our best to improve.
Thank you for checking out the demo, and we hope you enjoy your time in the painstakingly crafted world of Beauty and the War (X Playing Pieces).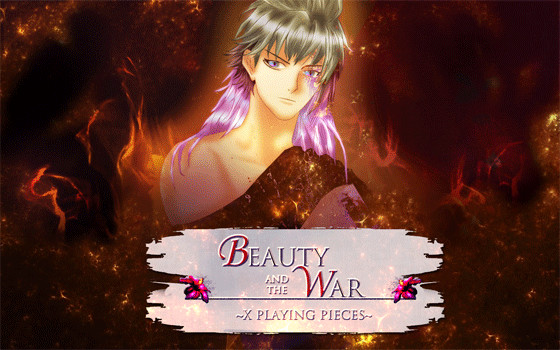 | | |
| --- | --- |
| Status | In development |
| Platforms | Windows, macOS, Linux |
| Rating | |
| Author | Poison Apple Tales |
| Genre | Visual Novel |
| Made with | Ren'Py |
| Tags | Anime, Dark Fantasy, Dating Sim, Fantasy, Female Protagonist, Meaningful Choices, mythology, Otome, Romance, Story Rich |
| Average session | A few hours |
| Languages | English |
| Inputs | Keyboard, Mouse |
Download
Click download now to get access to the following files:
BeautyandtheWarDemo-2.0-pc-and-linux.zip
371 MB
BeautyandtheWarDemo-2.0-mac.zip
354 MB